The EM LabEx Lab Extruder
All Around Laboratory Blown film extruders
Ideal for narrow gauge, manufacturing and testing of polymers. EM Labex stands for quality, precision and dedication..

‍
‍EM LabEx is available in two models. 3-layer and monolayer.
The EM LabEx test extruder

An all-around blown film laboratory extruder!
Do you also see the necessity to test new formula? The lab extruders from EM LabEx are ideal for new material formula development. The demands for bio & recycled packaging material, and foil for different purposes are rising. Many companies in the plastic industry wants to lower the CO2 footprint, and thus lower the use of fossil material. Therefore, it is necessary to test the new "green" polymers before implementing them into the final production. Testing material on a lab extruder saves both time and money, and can eventually of course improve the characteristics of the packaging film.
‍
No time is wasted, saving you time and money by testing batches quickly.. EM LabEx can produce PE, LDPE, HDPE, PP, Masterbatch, Biodegradable, and compostable bioplastics. This makes this lab extruder one of the best all-around extruders on the market. After the small production the properties of the foil can be analysed and inspected.
EASY TO HANDLE
The EM LabEx laboratory extruder is designed to be easy to use so you can start testing materials as quickly as possible.
‍
No time is wasted, saving you time and money by testing batches quickly.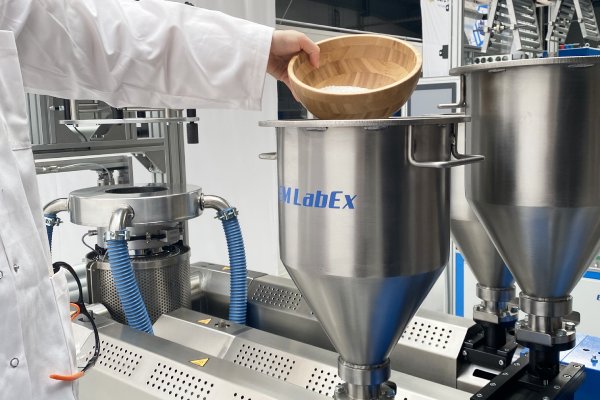 Not sure how it works?
Get in touch.