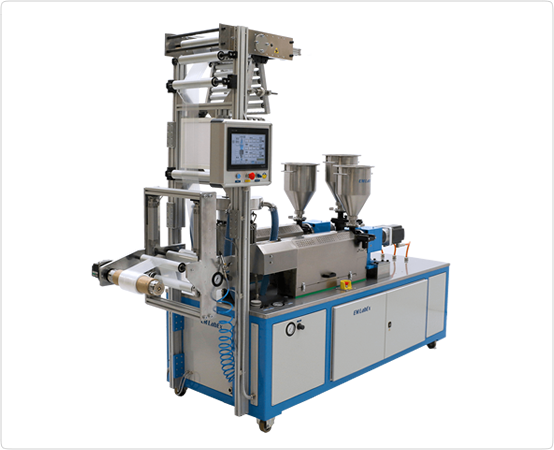 The EM LabEx 3 Layer lab extruder
Our 3 layer extruder machine features a compact design for testing and production of plastic films before large scale production. Therefore, your production can save a significant amount of time and money by ensuring quality film before large scale production.
A future-proof test Lab Extruder
Most plastic polymers are derived from fossil fuel-based chemicals like natural gas or petroleum. However, the demand for alternative polymers made of renewable materials as for instance plant derivatives is rising. Governments, consumers, and producers are turning towards more green and environmental friendly solutions when it comes to packaging and plastic products.
In this search for alternative polymers, film producers need to test the characteristics of these in the end film product. Of course it is necessary to produce a film that can provide at least same quality as the traditional formulas, and it is important to make the right choice when changing polymers.
The EM LabEx is designed to be able to test many sorts of plastic. The typical application of this test extruder is test of new polymers, bio-based plastic materials, recycled granules, 3-layer production samples, optimizing extrusion processes.
Having this machine in your production and a few kg's of granule you can begin to test the material and immediately see the outcome. This text extruder can hereby save productions lots of energy, time and material.
You are welcome to contact us and inquire here.
Main Features
The EM LabEx 3 Layer
About the EM LabEx 3 Layer
The EM LabEx extruder is designed to be easy to use in order to start testing materials as quickly as possible, and the programming of the machine is very intuitive.
We develop reliable machines constructed from high quality mechanical parts and equipped with electrical components, PLC, and an operator terminal from Schneider Electric or Siemens. Furthermore, the software has been adjusted to meet our customers requirements for an easy operation of the machine.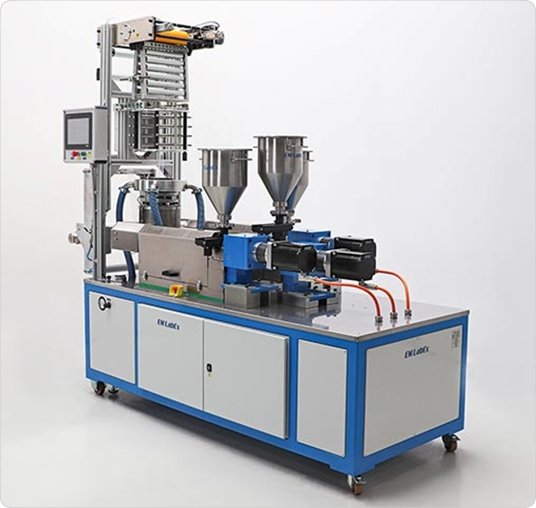 Would you like to know more about our 3 layer extruder?